When will schools reopen in India? The students are keen to know when the schools will be reopening.
Many states had already announced early summer vacations owing to the spike in COVID-19 cases in the month of April.
All schools across the country were closed since mid-March last year due to a coronavirus outbreak. For the very first in history, it happened that all educational institutions across the country will adopt the online mode of education so as to avoid any academic loss of students because of the closure of schools. Many students are anxious to get back to the physical classrooms. However, reopening of schools in offline mode is not mandatory.
Many states like Uttar Pradesh, Delhi and Haryana had reopened the schools for some classes at the beginning of the year, but because of a spike in cases, they had to close them again.
Earlier, CBSE cancelled the Board examinations 2021 for classes 10th and 12th. Soon after this announcement, many states cancelled their Board exam 2021 as well.
You can also check the link to know more about new changes made in terms of conducting Board examinations here: CBSE Announces New Exam Pattern for Class 12 Boards 2021-22! Check all details now!
Get full-fledged information on when the school will reopen in India and state-wise decisions on the opening of schools from here:
Warning of IMA regarding reopening of schools and colleges
The Indian Medical Association (IMA) started appealing to all the schools and colleges to strictly abide by the COVID-19 protocols and ensure all the adults in the school's milieu to be vaccinated properly. They have also demanded that government should start a proper vaccination drive for children in the age-group 12-18 years at the earliest.
'It is observed that with Omicron in most of the African countries there is a sudden increase in children who are more adversely affected and admitted to Intensive Care Units. This possibility of enhancing infection in the Paediatric age group is inevitable', a statement issued by IMA.
Govt of India School Reopening Status
The government of India is following a phase-wise unlocking of schools. Schools and other educational institutions faced a prolonged closure because of the COVID-19 pandemic. According to the official press release, 92 per cent of teaching personnel in India are vaccinated, the statement issued by Union Education Minister on November 2, 2021. At least 22 states and Union Territories reopened schools for all the students because of declining in the Covid cases. The Centre-run institutes have recorded 96 per cent vaccination among their teaching employees. Approximately 86 per cent of non-teaching personnel of educational institutions have been vaccinated, it showed.
Phased manner reopening of schools
The Indian Council of Medical Research (ICMR) recommended opening schools in a phase-wise manner starting with primary sections. It is also advised to follow multi-layered COVID-19 mitigation measures in schools. According to a UNESCO report, the closure of Indian schools for more than 500 days have affected more than 320 million students, especially from poor or deprived families.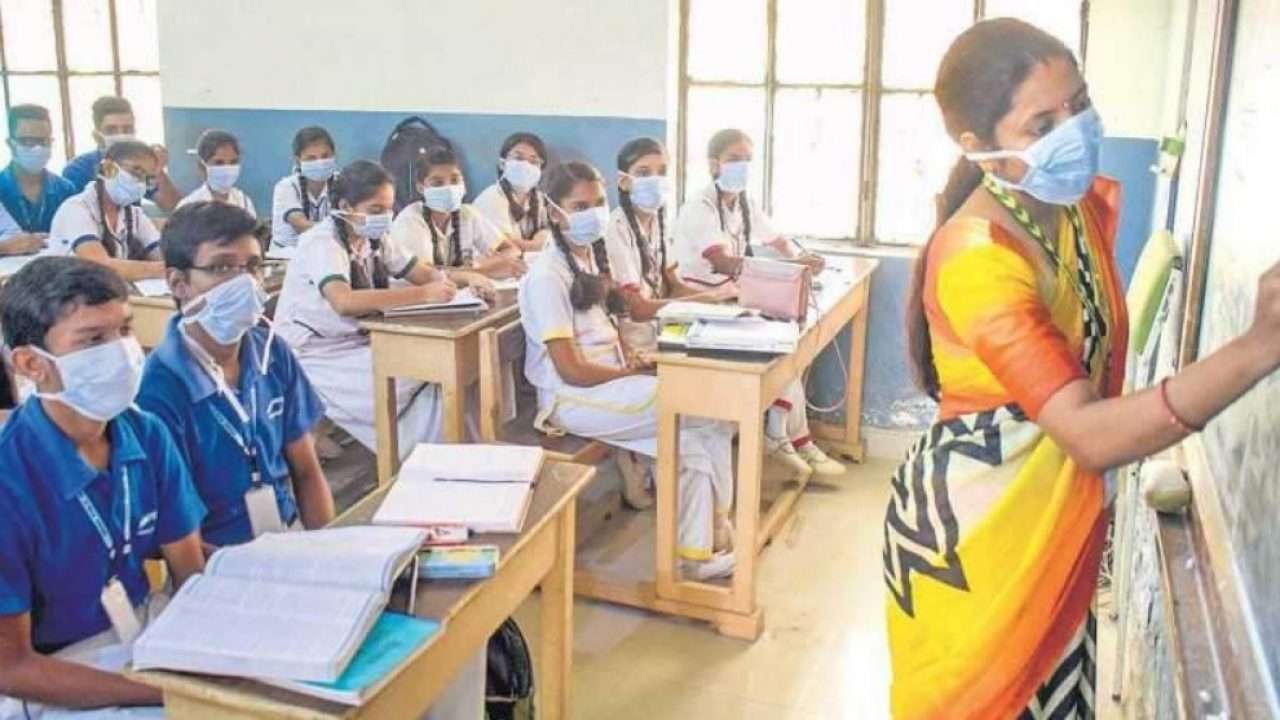 What different state governments has to say in terms of school reopening?
Delhi-NCR schools to remain closed
Even though the schools and other educational institutions in Delhi reopened on November 29, but as a measure to improve air quality in Delhi-NCR, the Commission for Air Quality Management (CAQM) advised that all private and public schools, colleges and other educational institutions in the Capital region shall remain closed until further orders, allowing only online mode of education.
West Bengal to reopen the schools from November 15
The West Bengal Board of Secondary Education issued guidelines for conducting offline classes for students of classes 9th to 12th. West Bengal Chief Minister Mamta Banerjee has announced that the schools across the states will reopen from 15 November 2021. Schools are required to follow all protocols related to COVID-19. The schools have to ensure the regular sanitization of the classrooms, proper social distancing has to be done and also thermal guns are to be used to monitor the temperature of students and various other staff.
School reopening news in Pondicherry
The education minister of Pondicherry A Namassivayam announced the reopening of schools, both government and privately managed, from November 8, has been put on hold. The decision was taken in view of incessant rains in the Union territory. Fresh dates for reopening schools will be announced soon after analyzing the situation.
Leh schools to reopen from 14 October
Ladakh's Leh district announced to reopen all private and government schools from 14th October for classes 9 to 12. Leh has announced the closure of schools for students up to class 12 on September 18 when dozens of students tested COVID positive during a special drive at the Shey area.
School reopening in Jharkhand
The state of Jharkhand reopened schools for classes 6 to 8 students from September 20, 2021. The decision was taken by the government considering the decline in the COVID-19 cases in the state.
News of School reopening in Uttarakhand
The Uttarakhand Cabinet has approved a proposal of resuming offline classes for students of classes 6 to 12 from August 1. Attendance will not be mandatory, however, wearing masks and following proper social distancing guidelines will be compulsory.
Haryana schools reopening decision
Considering the air pollution in NCR, the state government of Haryana has decided to close all government and private schools in for districts, which are Gurugram, Faridabad, Jhajjar and Sonipat from November 15.
The state has started physical classes with strict COVID-19 protocols from September 20, 2021 for classes 1 to 3. However, choice was given to attend either online or offline classes. The schools reopened for classes 9th to 12th where it has been advised to follow social distancing protocols strictly.
Government response in terms of reopening Schools in India
According to Dr VK Paul, NITI Aayog member, we must consider how schools were reopened in foreign and they had to close after the outbreak. We don't want to put our students and teachers in that situation.
He also said, before reopening schools in India we should consider various factors. The government will consider reopening schools only when the majority of staff and teachers will be vaccinated.
FAQs
What is the status of the reopening of schools in India?
The Delhi Disaster Management Authority (DDMA) has announced that the schools will reopen for all classes from November 1 with ensuring certain rules, including no more than 50 per cent attendance.
In which states schools are still not open?
The only states where schools are still closed are West Bengal and Manipur.
What protocols are to be followed while opening schools?
All the teaching and other staffs are to be fully vaccinated. Everyone has to wear masks and proper sanitization has to be done. Social distancing rules are to abide strictly.
Summing Up!
Remember, if you ever get confused, don't be afraid to ask our expert tutors by downloading the Filo App now!
We hope you have benefited from the information on this blog. Please share your thoughts as well!