When will colleges reopen in India? The students are keen to know when the colleges will be reopening. Many states had already announced early summer vacations owing to the spike in COVID-19 cases in the month of April.
All colleges across the country were closed since mid-March last year due to a coronavirus outbreak. For the very first in the history it happened that all educational institutions across the country will adopt the online mode of education so as to avoid any academic loss of students because of closure of colleges. Many students are anxious to get back to the physical classrooms. However, reopening of colleges in offline mode is not mandatory.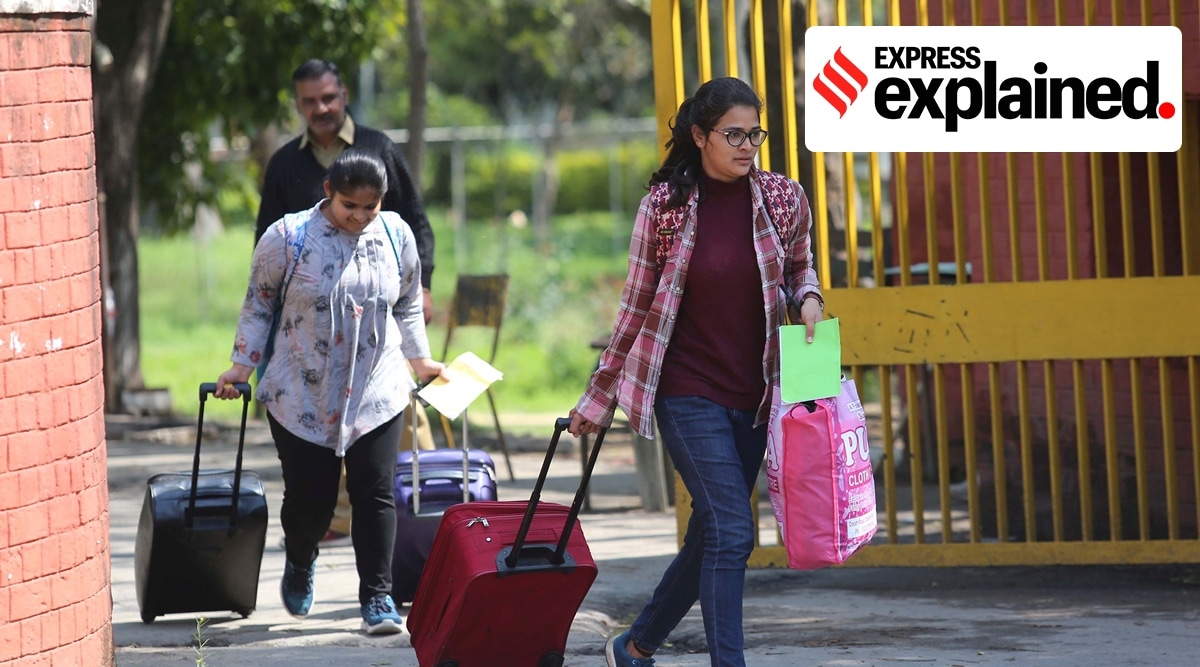 While many are mulling to call only the teaching staff for administration work with students continuing to study in online mode till the further notice. Others have announced to reopen the college premises with strict COVID norms.
Get full fledged information on when the colleges will reopen in India and state wise decision on the opening of colleges from here:
Warning of IMA regarding reopening of schools and colleges
The Indian Medical Association (IMA) started appealing to all the schools and colleges to strictly abide the COVID-19 protocols and ensure all the adults in the college's milieu to be vaccinated properly.
'It is observed that with Omicron in most of the African countries there is a sudden increase in children who are more adversely affected and admitted to Intensive Care Units. This possibility of enhancing infection in the Paediatric age group is inevitable', statement issued by IMA.
Ministry of Education on the College Reopening
Colleges and other educational institutions faced a prolonged closure because of COVID-19 pandemic. According to the official press release, 92 per cent of teaching personnel in India are vaccinated, the statement issued by Union Education Minister on November 2, 2021.The Centre-run institutes have recorded 96 per cent vaccination among their teaching employees. Recently, The rise of Omicron cases has led to fresh restrictions across the country. Several states, which experienced a very devastating second wave of the COVID-19 pandemic, have imposed restrictions to prevent the spread of the new coronavirus variant. 
Decision on reopening of Delhi colleges
The government of Delhi had ordered the closure of educational institutions, including colleges as per the latest Yellow alert. Delhi University registrar Mr. Vikas Gupta said that the DU had only resumed practical and project activities for students this year, which were being conducted at a low scale. Gupta said that the university would comply with DDMA norms and, considering the prevailing Covid-19 situation, DU was not expected to reopen anytime soon
JNU, which had reopened for third-year PhD scholars, in September has also issued fresh restrictions in line with the yellow alert of the GRAP. The university has issued guidelines for the closing of the central library on Wednesday and other offline academic activities on campus.
College reopening in Maharastra
Due to the rising Covid-19 cases and the surge of Omicron infections, the Maharashtra government has decided to discontinue physical classes in colleges and universities till February 15. The decision will apply to all state, private, deemed universities as well as technical Institutes and affiliated colleges.
College reopening in Haryana
Haryana schools and colleges have been closed from Sunday, January 2, 2022. This has been decided considering a sharp surge in cases. The state is detecting fresh Omicron cases over the last few days. In Haryana, schools and colleges will now be shut as the government announced new restrictions amid rising cases along with 'Mahamari Alert.'  
Haryana Schools and colleges were reopened earlier as the state reported a significant downtrend in COVID-19 cases at that time. As the cases were declining at that time, it was proposed that Haryana colleges and schools may resume offline classes with 100% capacity from December 1, 2021. However, since the fear of Omicron spread, this idea was not implemented and offline classes continued with half capacity.  
Colleges Reopening in Uttar Pradesh
Colleges in Uttar Pradesh reopened from 1 September, 2021. In the institutions, provision of sanitizer, masks and infrared thermometers, while maintaining social distancing and all COVID related protocols have to be strictly abide, Chief Minister Yogi Adityanath said. He also said, 'With the resumption of the educational institutions, it would be convenient to organise special vaccination camps for students above the age group of 18 years'.
You can also refer to the following link to know more about the impact of COVID on various college related entrances How has Covid-19 impacted the relevance of the SAT and ACT and admissions worldwide?
Punjab's Universities and Colleges got permission to reopen
Schools and colleges in Punjab have been closed for offline classes after witnessing a rise in the number of Covid-19 cases, but online teaching will continue. The state government has released fresh Covid-19 curbs, especially those of Omicron.
As per several media reports, an announcement has been made by Punjab's Chief Minister Charanjit Channi to control the spread of disease in the state.
Himachal Pradesh colleges reopening status
The Himachal Pradesh government has opened colleges in a phased manner. More than 260 colleges reopened in Himachal Pradesh from September 1 after a gap of several months. Medical colleges, Ayurvedic colleges and Dental colleges reopened from June 23. Pharmacy and Nursing colleges resumed physically from June 28 this year.
Tripura Colleges reopens
Tripura reopened all higher educational institutions, including general, technical and professional institutions from August 25 in physical mode. Wearing masks, maintaining proper social distancing and adhering to hygiene rules will be compulsory so as to attend offline classes in all educational institutions.
Colleges reopening news in West Bengal
Witnessing the rapid increase in daily count of Covid-19 in West Bengal, the Mamata Banerjee government announced a partial lockdown from January 3, 2021. In the partial lockdown schools and colleges will be closed till the next order. As per government statement, "This decision to shutoff schools was taken after reviewing the current Covid circumstance in the state and amid concerns of the first-spreading Omicron variant."
Colleges reopening status in Rajasthan
All colleges, coaching institutions and educational institutions reopened on September 1. Rajasthan School Education Minister Govind Singh Dostara tweeted this news where he wrote, 'Taking a big decision in the interest of students today, Chief Minister Ashok Gahlot has decided to open schools, colleges and coaching institutes from 1st September 2021.'
Reopening of Bihar's colleges and universities
Bihar colleges and coaching institutions are allowed to reopen from August 7 because of declining number of COVID-19 cases. They will be allowed to function at the capacity of 50 per cent. Bihar schools reopened from August 7, 2021 for classes 9-12 and schools from classes 1- 8 opened from August 16, 2021.
Gujarat colleges reopening
Colleges in Gujarat reopened from July 15 for students in a phased manner. Option of attending online classes is also given. Only 50 per cent of students will be allowed to attend classes. However due to recent omicron surge, the state is planning to shut down it's colleges & universities.
Government response in terms of reopening Schools in India
According to Dr VK Paul, NITI Aayog member, we must consider how schools and colleges were reopened in foreign and they had to close after the outbreak. We don't want to put our students and teachers in that situation.
He also said, before reopening schools and colleges in India we should consider various factors. The government will consider reopening of schools only when majority of staff and teachers will be vaccinated.
FAQs
When will colleges in Karnataka reopen?
Karnataka colleges will reopen from July 26 and those who are vaccinated will be allowed to attend, the state government has decided.
Is there any chance of reopening of Delhi University colleges?
Delhi University reopened colleges undergraduate first-year students whereas for postgraduate first-year students, it began on December 1, 2021.
When will colleges reopen in Punjab?
The government of Punjab allowed colleges and universities to reopen, provided the students and staff have taken atleast one dose of vaccine two weeks ago.
Summing Up!
Remember, if you ever get confused, don't be afraid to ask our expert tutors by downloading the Filo App now!
We hope you have benefitted from the information on this blog. Please share your thoughts your thoughts as well.